What is the Cloud?
On-Premises Information Systems Architecture
WORKLOAD
SERVICES
VIRTUAL MACHINES
VIRTUALIZATION
PHYSICAL INFRASTRUCTURE
PHYSICAL FACILITY
Cloud Architecture
WORKLOAD
SERVICES
VIRTUAL MACHINE
MANAGEMENT PLANE(ex Azure Portal)
VIRTUALIZATION(managed by provider)
PHYSICAL INFRASTRUCTURE(managed by provider)
PHYSICAL FACILITY(managed by provider)
Types of Cloud Services
SOFTWARE AS A SERVICE
PLATFORM AS A SERVICE
INFRASTRUCTURE AS A SERVICE
Accessing Cloud Services
VPN GATEWAY(over internet)
EXPRESS ROUTE(WAN)
What is Azure?
Azure as a Cloud Provider
Management plane allows you to manage every services with management tools
Azure portal, Azure Powershell, REST API are examples of management tools
Azure Clouds
Azure Public Cloud
Microsoft Cloud for US Government
Microsoft Cloud Germany
Azure and Office 365 operated by 21Vianet in China
Azure Regions
Azure Billing Models
Capacity based billing
Consumption based billing
Fee-based billing
Why Choose the Cloud?
Cloud Economics
CapEx vs OpEx
On-premises capacity expansion = capital expense

Purchase equipment and licensing up-front
Depreciate and replace equipment
Renew licenses
Cloud-base capacity expansion = operation expense

Billed monthly for what is used
No equipment purchase
May or may not require license purchase
Capacity reduction

On-premises — possibly sell excess equipment
Cloud — reduce monthly costs
Consumption-Base Spending
Capacity-based spending

On-premises resources
Some Azure resources – virtual machines
Consumption-based spending

Pay only for what is used
Function apps, logic apps, storage accounts
Functional Advantages
Provision environments in minutes rather than days, weeks, or months

No capital equipment purchases
Streamlined provisioning process

Built-in access and allocation management
Reduced administrative overhead
Azure Management Tools
Azure Management Plane
Regardless of the way you manage Azure, you are using REST API as a pipeline
Azure Portal
Web-based
For every types of users
Azure Command Line Tools
Azure PowerShell cmdlets
Azure CLI
Azure REST API
Communicates through HTTPS
Allows to build custom applications
Azure Cloud Shell
Web-based console interface

Bash shell
PowerShell
Cross-platform

https://shell.azure.com
Azure Subscription Management
Azure Subscriptions
Subscription Types
Pay as you go — Most common
Enterprise — Most common
3rd party
Free
Credit
Subscription Access
Management Groups
Enterprise License Agreement
Azure stand-alone enrollment or as part of on-premises enrollment
Azure EA port

Departments, accounts, subscriptions
Roles — enterprise administrator, department administrator

Cost reporting is different

Spending Quota — department level

Enterprise Dev/Test Subscriptions

Lower cost
No SLA
Licensed for dev/test only
Azure Service Lifecycle
General availability
Public preview
Private preview
Azure Cost Planning
Azure Service Purchasing
Reserved Instances
Low priority compute
Performance and feature tiers
Free accounts
Free services
Azure Pricing Models
Capacity-based pricing

Virtual machines
Virtual network gateways
Charges typically accrue per minute

Consumption-based pricing

Function and logic apps
Storage accounts

Combination pricing
Almost consumption-based

Container instances — charges accrue per second
Key Azure Cost Factors
Size/Capacity
Pricing tier
Infrastructure versus platform functionality
Region
Regional zone
Data transfer costs
Azure Cost Management Best Practices
Cost Analysis
Many builtin tools for cost analysis
Spending Limits & Quotas
Spending Limits

Apply to credit-based subscription — MSDN, Trial
Subscription is disabled

Spending Quotas

At the enterprise department level
Subscriptions are not disabled
Sends notifications at 50%, 75%, 90% and 100% of quota

Budgets

At the subscription level
Subscription is not disabled
Custom set alert/notification levels

Using Tags
Using Policies
Azure Reservations & Spot Pricing

1 year reserved with AHB = ~40% savings
3 years reserved with AHB = ~62% savings
Spot with AHB = ~80% savings

Optimizing Location

Regional cost differences
Pricing zones
Using Azure Costs Tools
Azure Cost Advisor
Azure Pricing Calculator
Total Cost of Ownership (TCO) Calculator
Azure Cost Management
Azure Cost Management Tools
Azure Cost Advisor
Reduce costs by eliminating unprovisioned ExpressRoute circuits
Buy reserved virtual machine instances to save money over pay-as-you-go costs
Delete unassociated public IP addresses to save money
Use Standard Snapshots for Managed Disks
Azure Total Cost of Ownership (TCO) Calculator
Cost Management & Billing
Azure Support
Azure Support Plans
Basic

Billing and subscription support
Azure advisors

Developer

Business hours e-mail support
<8 hour response time

Standard

<8 for minimal impact incidents
<1 hour response for critical business impact incidents
24/7 access via e-mail and phone

Professional direct

<4 hour for minimal impact incidents
Architecture guidance, operational support, training

Premier

Dedicated architecture guidance and review
On-demand training
<15 minute response with Azure Rapid Response or Azure Event Management
Support Tickets
Azure Service Level Agreements
Many services at 99% or 99.5 SLA for availability and performance
Virtual Machine availability

99.5% – single, premium VM
99.95% – 2 or more VMs in availability set
99.99% – 2 or more VMs in availability zones

Web apps – 99.95% available
Azure SQL database availability — up to 99.995%
Azure CosmosDB — up to 99.99% throughput, 99,999% availability
Composite SLAs
Solutions may implement multiple services with independent SLAs
Services may be dependent or independent

Dependent – Use the sum of downtime. Example

Solution includes a web app (99.5% available) which is dependent on a service running in a premium virtual machine (99.9% available)
Downtime minutes per month ( assuming 43,200 minutes/month):

Web app – 21.6
Virtual machine – 43.2
Total – 64.8

Composite availability – 99.85%
Shared Responsibility Model
Azure Resource Manager
Azure Resource
Everything in Azure
Sometimes referred to as services
Fundamental object in the "management plane"
Charges accrue at the resource level

Billing is at the subscription level
Azure Management Model
Azure Resource Groups
Primary Organizational Object
Administrative roles
Governance by policy
Life cycle management
Spending allocation
Azure Marketplace
All Azure resources
Provided by Microsoft
Provided by partners
Organized by service type
Searchable
Azure Regions & Availability Zones
Azure Regions
Availability Zones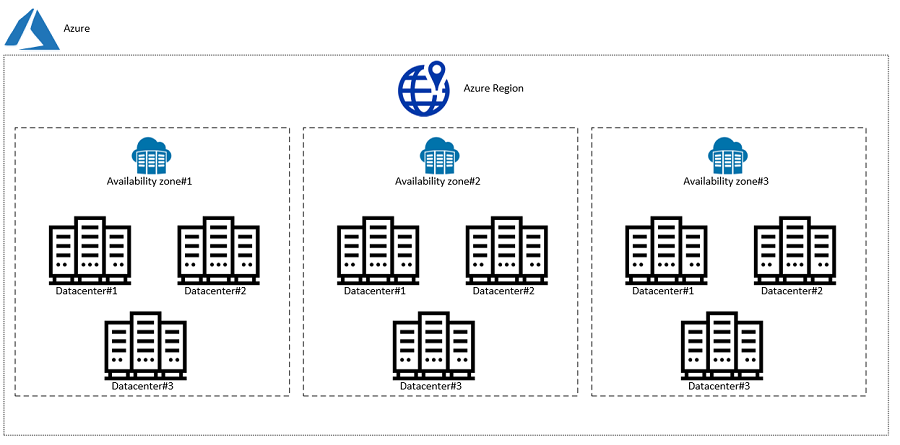 Storage Geo-Redundancy

Locally Redundant Storage

All regions
All services
All tiers
99.9% availability
11 9s durability

Zone Redundant Storage

Limited regions
General prupose V2, FileStorage, BlockBlob
All tiers
99.9% availability
12 9s durability

Geo Redundant Storage

Limited regions
General purpose V2, GPv1, Blob
All tiers
99.99% read availability
16 9s durability
Preview GZRS,RA-GZR

Azure SQL Database Geo-Redundancy

Geo-Replication

Up to 4 secondaries
Different regions
Read-only

Auto-failover

Single databases
Multiple databases
Entire server(managed instance)

CosmosDB

99.99% single region
99.999% multi-region(read and/or write)